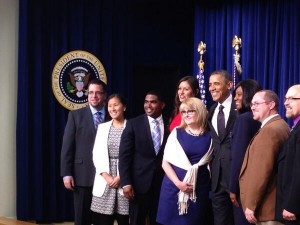 What I want to say here is one simple word….yoweeee.  But for those of you who would like to know what a day is like when you get honored as a Champion of Change by the White House, here goes.
Sitting in the airport in Atlanta on the way to Washington, I overheard the President's speech at the Kennedy Honors.  He spoke of Kennedy's love for the human spirit, both those "heralded" and "unheralded."  It struck me that the Champions of Change program is all about honoring those who might be unheralded, who do the daily work they do.
Teachers–be they librarians or in the classroom, are too often unheralded.  So while the Champions of Change acknowledges the work of some of us, we really represent the hard work and dedication of so many teachers and librarians around the country (and the globe) who are trying to afford their students the opportunity to dream, explore, and create.
Any one of us can lead–any teacher– any librarian–any administrator and any student, by believing that we individually have the power to make a difference and that we have a voice.  I believe that being a connected educator gives us that voice, amplifies that voice, and is a great democratizer.
The work we do is important, each of us.  So keep at it.
Mental Snapshots
Touring the White House for the first time
Bumping into honorees Bud Hunt and Todd Nesloney in line and taking each other's photos next to the White House
Seeing the "first dogs" in the hallway
Looking at the views from the White House, the Kennedy painting, the White House easter eggs
My nephew hanging out on the floor at the White House because he was tired from our flight delay (I brought my school-aged nephews and my sisters, and of course Gregg, as guests)
Awesome hot chocolate to wake him up at Hamilton's
Lining up to enter the Eisenhower Executive Building
and other memories–
Taking a photo with and meeting Valerie Jarrett, Obama's right hand woman
Meeting Gene Sperling
Hearing Bess Evans, who organized the event, say that we are having an unusually special guest, the President of the United States
(The President evidently rarely is able to attend this event, and this was the first one where the Press came.)
Hearing President Obama speak
The President inviting us on stage to meet us and take a photo
The President inviting all the students there on stage and him shaking hands with my nephew!
Him telling me he loves Austin (we Austinites know that!)
Being on the panels and listening to the other panel because it is cool how many diverse things we are doing
Taking photos by the Presidential Seal afterwards with Bud Hunt and his wife
Wandering our way out of the building, finding bathrooms, and then suddenly dumping out on the street in the real world, dazed
And then all of our batteries dying (six phones, no batteries left) just as the first tweets were arriving
Finding the Woodward Table where the bar has plugs beneath the counter and finally charging up and getting to hear from friends and see photos
Having donuts to finish the day and then a long walk on the Mall
 Vision Matters
It does mean a great deal getting honored.  Sometimes being connected is so much a way of how I do my life, that I forget the years of effort that have gone into it.   And it has meant so much the support of my colleagues and I appreciate that more than I can say.  I was worried people would think, why her?  And maybe some did.  But all I can do is just be here as one representative of the work of so many people.   But it also felt so incredible to be honored for the work I have done.  There have been obstacles and email debates but also great support and inspiration from within my own district and it is really about the tribe that moves things forward.
It also meant a lot to me hearing the encouragement that  FCC commissioner Jessica Rosenworcel gave connected educators, as well as that of Celia Munoz, Domestic Policy Council director, who sincerely encouraged us to get even more people connected.  They and Gene Sperling and the President seem to "get it" in terms of the great gift that access and tools can provide for our students and that IS a key to moving our schools forward.
Some words of thanks
I appreciate all of my colleagues (my staff holding the fort down back home, all of our teachers, and the vision of our leaders and awesome instructional tech department).
I had decided to bring my nephews and three Musketeers sisters(Thanks Nancy and Joanne)  because I thought this could be an experience of a lifetime for them.  I think it turned out to be just that.
Thanks for sharing this journey with me.  And though this sounds like I am speechifying, I did want to thank my parents for always showing me that it is never too late to learn new things.
And last of all, while I am doling out thanks, I really want to thank my husband, Gregg La Montagne, who tweets right alongside me, supports me, is friends with my colleagues, and supports the time I spend blogging and writing and hanging out online, and whose idea of a fun evening is a glass of wine and learning how to play Space Team or fantasy football together.  Thanks for tweeting me across the living room of life.