Our district and many others found out recently we will be starting school with remote learning.  It'll be different from last spring because we already knew many of our students then, but when school starts we'll all have many students who are new to us.  It's had a lot of us thinking about how to build connections with students.  Whether we are librarians or teachers, finding ways to bridge the gap and create a sense of community matter.  And it reminds me of what my friend and colleague Sheryl Nussbaum-Beach says – this isn't remote learning, it's "connected learning."  So how can we forge those connections?
Setting the stage at the beginning of the year is vitally important.  Quality Matters, an organization that certifies online college courses, explains to their course participants the importance of  helping students feel comfortable and prepared at the beginning of the year.  We often pay more attention to the content of the course itself(especially at secondary) than we do to taking time to build these connections.  But with all the tumult in the world right now, plus students new to the school, we need to take the time to develop relationships with students.  And although Zoom or online classes are not ideal for every student, as any user of social media can attest, you can create relationships with people you've never met in person.  And despite the challenges, one of the unique things that happened in the spring semester was students seeing teachers and librarians as more than teachers, but as parents, pet owners, family members, etc.  So how can we continue to build relationships that are authentic this fall?
Engaging with Joy
I'm reminded of the pictured exhibit above from the Artechouse Exhibit in D.C. called "In Peak Bloom." Viewers could interact with a digital room whose walls were covered with projected flower petals that moved as we swished our hands up and down and around.  Yes, we were engaging with something digital – but we were also engaged in play and joy. And though each of us was having our own experience with the wall, we were also sharing the digital experience together.
I think often about Dean Shareski's book, Embracing a Culture of Joy. He writes and speaks a lot about schools and happiness, play and joy.  If you follow his work, you have probably seen his family's jumping photos, which he wrote about in "What's With All the Jumping?" As you think about ways to connect with students this fall – don't forget that joy and happiness build relationships between people.  Maybe we need to ask our students to send us jumping photos!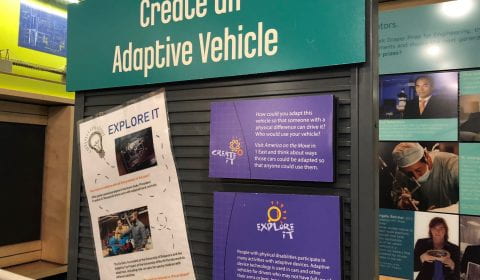 Some other ideas for building connections with students (and don't forget to add the fun/joy to all of these ideas):
welcoming and unique introductory video to help students get to know you and maybe showing your physical classroom or library to give them a sense of "place"
posts in Google Classroom or your website welcoming them to the course/library in your unique voice
screencasts of how to navigate your course LMS or library website/catalog so new students will feel more confident
a graphically pleasing introduction to procedures in your course that is personalized (can use Canva or Google Slides rather than a text filled typed syllabus or dry rules)
initial connection building activities like sharing favorite music, favorite books or pet names/pictures
scavenger hunt or trivia contest that starts even before school begins
roll call question of the day (students check in with an answer to the question)
Create classroom norms around online learning like @jcasatodd did- important and something you could cocreate with students.
have students create an Instagram page using something like this Instagram Get to Know You template from Lisa Johnson(@techchef4u)
using Bitmojis or memes to create an identity
using a site like Thinglink with an image of your library/classroom to create a sense of place like our district librarians did for summer reading
build anything – Asking students to collaborate early on in some shared building experience creates connection.
invite students to share their favorite summer reads via Flipgrid and to comment on one other student's video (if students are reluctant about being on video allow them to substitute an image like of the book cover, for example)
use a creation or writing activity from Jason Reynold's video series Write. Rite. Right.  like these: "Your Hero Writes You a Response" or  "Write an Award for yourself" 
Ask students to write or share a personal commitment for the year – number of books they want to read, or something they want to learn from your course – something that can be revisited later in the year as a way to get to know students and build investment
In her blog post, Synchronous vs. Asynchronous Learning Jennifer Casa Todd shares a host of other creative ways we can ask the right questions and connect with students at the beginning of and throughout the semester.
Gamified anything – it doesn't have to be hokey but most of us enjoy something that engages us in creativity and competition.  Even if something short like a Kahoot to get to know you as their teacher – a game is a way to create some joy and connection.
Also, a reminder, that students respond to play, no matter how old they are. Starting school online will entail a certain amount of stress for both students and teachers alike.  Figuring out ways to bond with students early on in ways that are also joyful for you both will make all of our experiences richer, even if they aren't in person.
I'd love to hear your creative ideas and resources – feel free to share with me here or on Twitter @technolibrary.