The Texas Library Association conference in Ft. Worth last week hosted some excellent speakers as well as authors galore.    Aside from the excellent presentations which I will write about in another post, here are my "discovered" tidbits:

On the vendor side:
I was reminded that Ebsco's ebook offerings are something to examine again.  They have several different distribution models– single use e-books, three user e-books, or a subscription model similar to Overdrive's.    E-books either embed into the database(which I knew) or can be read individually.  They have a growing selection of e-book titles available.

I'm sure many can relate to this–I  always feel torn about ordering professional development titles for my library that are library specific.  It is hard to justify the cost of expensive reference titles when I am the only one who reads them.  But I just discovered there is a Texas service for checking out professional development titles from the Texas State Library!   If you email lsc@tsl.state.tx.us  and let them know what titles you would like to borrow, they will send you the titles on loan!   All you have to do is pay postage to send them back.  I'm so excited about this discovery–now I can get free access to a library science collection, or as the Texas State Library calls it–the "librarian's library" without spending my own library budget!

Mackin Via–I am behind the curve on Mackin's services, I have to admit.  Learning that they can not only host your e-books, but also create a portal for database access has me intrigued.  They have an offer for 25 free e-books to get you started, which I've already downloaded.  Worth a look.

Magnetic Glass whiteboards–I am in "love" with the magnetic glass whiteboards that Worthington Contract Furniture showed me at the exhibit hall.  They are very slick and a great functional design piece for a library or lab space.

Gale's ASCD collection is an under-known but great resource.  We have just added a collection to our library–but it basically lets you create an e-book version of a professional collection that is accessible to multiple readers at a time.  You can buy collections of titles( I only wish that I could buy just the titles we need) at pretty reasonable costs per package.   They also have ISTE titles available in similar packages.
Other discoveries–
It's always great meeting other librarians in our state.  Texas is so big that it's a challenge being aware of work librarians are doing in other parts of the state.  So the serendipitous meetings at the conference are always a highlight.  Discovering that we share some of the same issues is very validating.  (and thanks to my non Texas colleagues for also reinforcing how much these same concerns run across all sorts of places and spaces).
Networking matters.  I'm constantly amazed by how much of a conference changer social networking is and how completely integral it is to my own learning.  And how much we still need to get that story out and help other librarians understand the value of being part of networks on places like Twitter.  I also appreciate our own district supporting groups of us attending–sometimes you do have to go away together and learn things together to make them "sticky."    (Thanks Jackie!)
One  note–conference attendance was noticeably down, and since TLA has been a really vibrant conference for so long, that was a little disheartening to see.   The confluence of librarian layoffs, tight budgets due to the Texas funding debacle a year ago, the STAAR test falling during the conference dates, the economy, etc.  no doubt had a big impact.  The vendors were definitely feeling the pinch as well.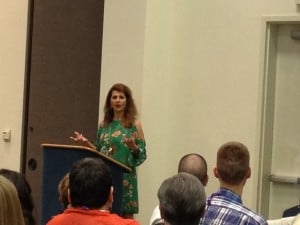 I'm hoping for a much better attended conference next year in San Antonio, but despite the economy and testing, the conference brought in excellent speakers as always (Dan Ariely, J.R. Martinez, Joyce Valenza, Buffy Hamilton, Cathy Jo Nelson, Nia Vardalos, lots of YA authors, Isabella Allende, Neil Gaiman).
I loved "Dancing with the Stars" actor J.R. Martinez's seemingly indomitable spirit(and kindness to those lined up for autographs), and loved actress Nia Vardalos's description of herself as a "fearless idiot."  I think we can all be models as risk-takers and I loved the ability both of them shared of just being able to take these "leaps of faith" and believing things will work out.
Lastly, it was a pleasure to see that Fort Worth has had a quiet little resurgence; it's greatly changed since my last visit to TLA there a number of years ago.  It was easily walkable; hotels and food were great, the arts district is wonderful; 
botanical gardens were huge and it was very relaxed and quiet.   That was a nice rediscovery!
Share your learning tidbits here if you like!  And thanks all for a great conference!